Here in Southern CA, summer seems to last forever. Whereas in your region, the leaves may be just starting to turn, and there is a hint of fall in the air. Wherever we are, let's savor these long summer days, and welcome the approaching change of season, however subtle, as a reminder to allow internal change and transformation.

With warm appreciation,
Linda




1. Tools for Transformational Leadership

2. Deep Coaching using The Enneagram

3. Linda on Garden of the Soul Radio Show

4. How to Use the Power of Pause

5. Stress Reduction Group for your Organization

6.Upcoming Speaking Event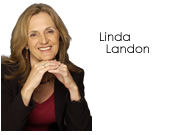 Linda Landon, ACC (MCC pending), is a business and recovery coach, author, speaker and facilitator. Now certified in Deep Coaching, an approach that integrates the Enneagram as a tool to deepen awareness, she mentors professionals and executives in recovery to deeply transform themselves and their organizations. Linda has more than 20 years experience in coaching, business consulting, marketing, and sales, and is the president of Linda Landon & Associates, a Los Angeles-based coaching and training company. She is the author of The Power of Pause: simple meditations for complicated lives.
Read More





Stress Reduction Group for Your Organization
Research shows that executives who run treatment facilities experience higher turnover
rates than those in any other industry.2 Mounting pressure on any organization's team can increase the rate of:
• Stress
• Exhaustion
• Difficulty concentrating
• Irritability
• Decreased levels of work satisfaction
• Compassion Fatigue
And they are more likely to leave their jobs.
These half-hour stress reduction groups provide your staff with the tools and support they need to overcome these challenges, give themselves a much-needed break, and reinvigorate their passion and purpose.
If you are located in the Los Angeles area, Linda will travel to you. If you are outside the LA area, she will conduct the group as a teleconference!
Contact Linda for further information or to arrange a free session

Linda will be presenting

The Power of Pause:
Speak with Confidence

at the Public Relations Society
of America's 2012 International Conference in San Francisco CA
October 16, 2012
In addition to individual coaching for professionals, we also offer:

Enneagram Typing Sessions



The Power of Pause
- Book with Audio CD

Power of Pause Stress Reduction Groups for CEOs and management teams



Recovery coaching for executives and business professionals

Speak with Confidence individual coaching for presenters

Keynote presentations for conferences
Call us for more information or to schedule a complimentary consultation.
(310) 202-6722

www.lindalandon.com
www.powertopause.com

Email us
All Services
Recovery Services
Books & CDs
Speaking Engagements