Welcome to Spring - A time to weed out what's no longer essential and make room for new growth. This issue explores Consciousness and how to weave it in our everyday lives. To deepen your understanding, I am offering free Enneagram Typing Sessions. You can also watch me addressing Stress in the Workplace - on TV! Enjoy.
With warm appreciation,
Linda




1. Consciousness in Business
2. Introducing the
Enneagram
3. See Linda on TV!
4. How to Use the Power
of Pause
5. Coaching Group for Clinicians
6. Upcoming Speaking Event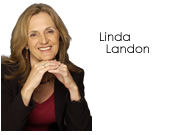 Linda Landon ACC, (MCC pending) is a business and recovery coach, author, speaker and trainer, who helps professionals connect with their inner genius so they can be authentic, intentional, powerful, successful, and happy. Linda has more than 20 years experience in coaching, business consulting, marketing, and sales, and is the president of Linda Landon & Associates, a Los Angeles-based coaching and training company. She is the author of The Power of Pause: simple meditations for complicated lives.
Read more.

Starting soon:

Power of Pause Coaching Group for Clinicians working in Addiction Recovery

This group is open to any therapist or counselor who wants to reduce stress, bring more balance back into their life, and expand their practice.

The group will:

• Support you to market and build a thriving business
• Coach you to achieve your personal and professional goals
• Teach mindfulness skills to relieve stress and prevent compassion fatigue
• Provide an opportunity for peer coaching
• Offer new tools to enhance your proficiency as a clinician
• Reinvigorate your passion and purpose

It includes:
Two phone meetings a month
One individual phone session a month

For further information about this group, contact Linda.








Linda will be presenting at the

2nd Annual West Coast Symposium on Addictive Disorders (WCSAD)

La Quinta, CA
May 30 - June 3, 2012

Reduce Stress and Revitalize Yourself Using The Power of Pause

Recovery Coaching: A powerful tool to support your clients' recover

Click here to register

In addition to individual coaching for professionals, we also offer:

Enneagram Typing Sessions



The Power of Pause
- Book with Audio CD

Power of Pause Stress Reduction Groups

Speak with Confidence individual coaching for presenters

Power of Pause trainings for CEOs and management teams

Keynote presentations for conferences
Call us for more information or to schedule a complimentary consultation.
(310) 202-6722

www.lindalandon.com
www.powertopause.com

Email us
All Services
Recovery Services
Books & CDs
Speaking Engagements