Over the last year I've had the privilege of working with business professionals who have opened to me about their deep-rooted insecurity about themselves as men and women. Men have revealed their self-doubt, concern and agony that they cannot live up to their colleagues' expectations. Women, on the other hand, unconsciously sensing men's vulnerability, hold back their competency (hoping they will be appreciated by their male colleagues), or sometimes 'masculinize' themselves and try to take over - which can make men feel even more inadequate. These dynamics get played out over and over in the workplace.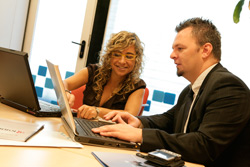 Last year I worked with a male partner in a law firm and his top associate, who was a woman. It was interesting, though not atypical, that from the outset, the partner focused on externals - acquiring high profile (high pay) clients, winning trials, and how well his associate was following his directives. He worked long hours, traveled frequently, and expected her - and their whole team - to keep up with him. His associate, concerned that he was harming his health, put in significant overtime to keep up with the workload, and reduce his burden. Everyone at the office was sacrificing personal time with family, and feeling burnt out, frustrated, and resentful.

When we did an Enneagram assessment, we discovered that the partner's dominant personality type was Eight - a challenging and assertive type, and his associate was dominant in Nine, the Peacemaker, a more withdrawn type. The more frustrated he became, the more he pushed and dominated. And the more he pushed, they more she conceded; and as she confided in me, built up resentment. As a result she was significantly underachieving, because she didn't dare assert herself, and the man felt unconsciously emasculated because with all his pushing and cajoling, profits continued to drop.

In our coaching sessions, the partner found it difficult to focus on his feelings of frustration, let alone how his attitude was increasing tension in the office. It was easier for him to blame his associate than to turn inwards and see his part. One day he arrived late to our meeting in obvious distress. He confided to me that his wife has just asked for a separation. He was shocked and devastated. In the session he confessed that he'd been so obsessed with succeeding professionally (and justifying his workaholism as a way to support his wife and children) that he'd lost connection with all of them. As he broke down, his heart opened, and he started to feel the pain of the separation from his family, and more significantly, himself.

In our sessions he started to unravel patterns that he'd never even seen, let alone questioned about his role as a husband, father, and businessman. His relationship with his wife started to transform. They agreed to turn towards each other (instead of separating) and dedicate time to rekindling the love that drew them together in the first place.

Not surprisingly, he also changed how he related to his associate at work. Feeling more confident in himself as a man, he started to turn over more responsibility to his female associate. She, freed from the tyranny of his constant vigilance, took some bold initiatives to boost profits and team morale: She opened up a whole new market for the law practice, instituted a more flexible schedule for all team members, and implemented some trainings to teach staff how to work together more effectively as a team.

Now he had time to focus on what he did best - winning trials - while she got to focus on building relationships and managing the office. By the time we completed both the partner and associate were much happier, and the firm was revitalized.

~Linda



If you're stuck in holiday traffic, pause, and think of three things you're grateful for.
At your company holiday party, if someone says something annoying to you, remember they are probably feeling even more awkward than you, and smile.
While waiting in another long checkout line, turn to the person next to you and ask them how their day is going.
If you feel overwhelmed, make of list of what absolutely needs to be done, do just one thing, and let go of the rest.